Patient Survey Results
A big thank you to everyone who completed the survey and gave feedback, as it enables us to improve the service we offer and address any problems that you may have experienced.
Our aim was to assess and improve our customer care and the results we received were extremely positive.
We are pleased that you confirmed in the results that you are happy with the service we provide and that the whole team treat you in a professional, courteous and respectful manner. We will continue to be conscious of maintaining our standards in customer care and if you have any suggestions or wish to give us feedback, please either tell us or we have a suggestions box in reception.
Annual Fee Review
The new charges take effect from 1st January 2018. Details of these are available from reception or on by clicking here . Our DPAS payment plan fee will remain unchanged for 2018.

Booking Appointments & Appointment Reminders
Reception Reception is open from 8am- 5.30pm Monday, Wednesday and Thursday, 8am – 7pm on a Tuesday and 8am – 1pm on a Friday. (Reception stays open between 1pm –2pm Monday - Thursday).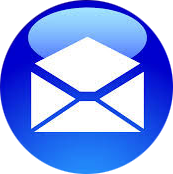 If you wish to contact us by email regarding an appointment, please email: reception@beaconlodge.net.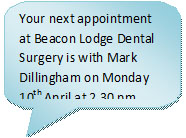 As a courtesy, we regularly remind our patients of their forthcoming dental appointment, by landline, text or email. Please advise reception which you would prefer. If you request an email reminder please check that our address does not end up in your junk mail.
For this service to work, please keep us updated of any changes to your contact details
Keeping up to date
Latest guidelines recommend that we update your medical history at each visit.
We would be grateful if you could either bring to the appointment your current medication or a current prescription list.
A reminder about Cold Sore Advice


Cold sores are extremely infectious and most infectious when they are blistering. It is important to avoid touching cold sores, because of the high risk of spreading the virus.
Avoid squeezing, pinching or pricking the cold sore as this can spread the infection.
Antiviral creams, ease the pain and blistering and help the sores heal more quickly.
You can buy antiviral creams such as Zovirax from a pharmacist, or seek advice from your dentist or doctor.
Due to the highly infectious nature and the serious consequences of cross contamination, we are unable to carry out treatment other than emergency treatment on patients with a cold sore.
Reminder: If you are suffering from any infectious illness, such as flu or a tummy bug, please rearrange your appointment for a future date when you are feeling better. Thank you.
Staff News
We would like to welcome Beth Chapman to our team at Beacon Lodge. Beth is a student at Bournemouth and Poole College studying dental nursing. She will be working with our experienced clinical staff, who are overseeing her training.
If you do not wish a student to be present during your appointment, please advise reception.
Charity Event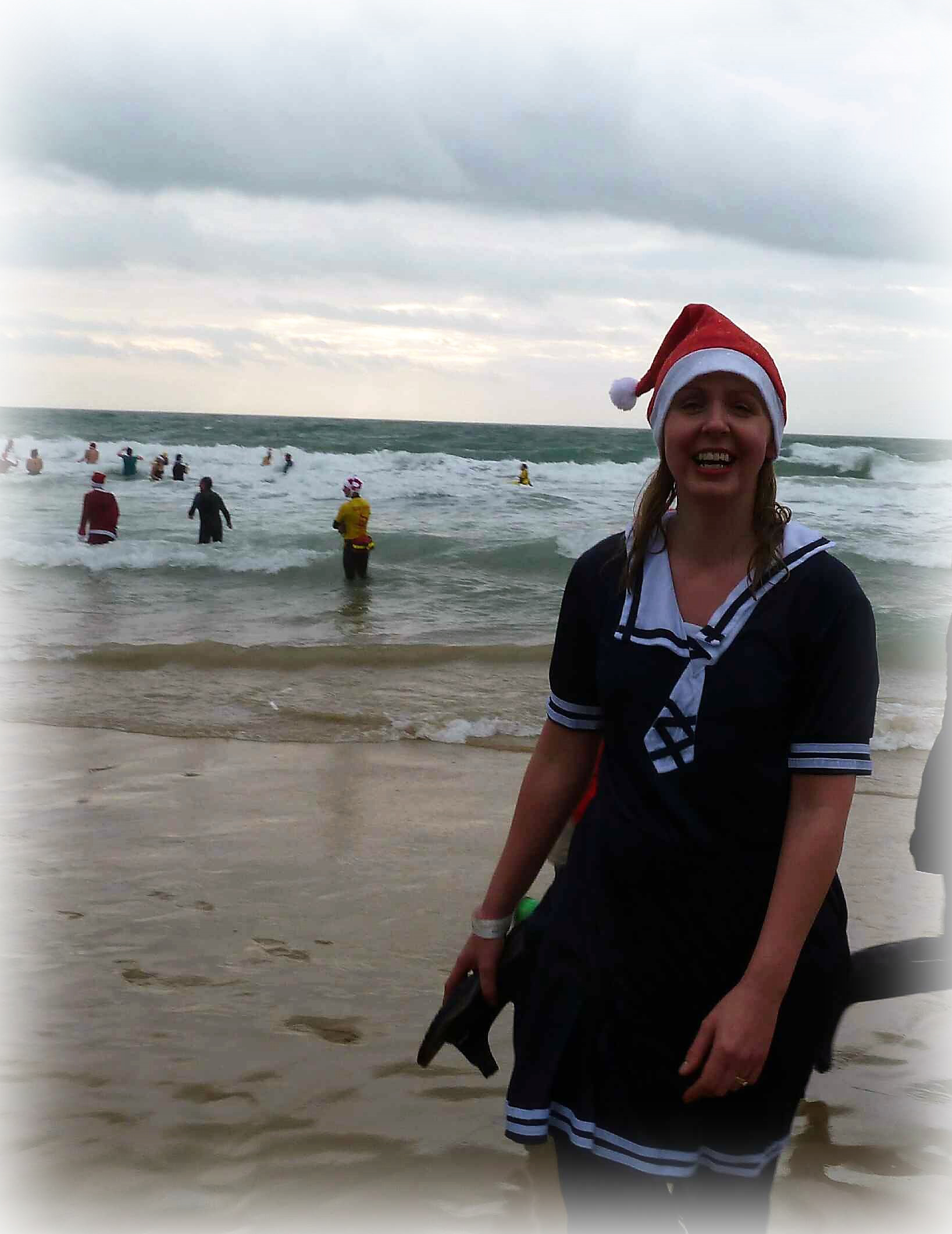 Congratulations to Karen on braving the elements on Christmas Day Morning!
Dipping into the sea to raise funds for Macmillan Care.
Thank you to everyone who sponsored and helped her raise £300 for a good cause.

Looking for a fresh white smile this Winter
We are currently offering tooth whitening for only £199 (usually £250) with the initial consultation and assessment fee included in the price. Please contact reception for further details. (Whitening is not suitable for all patients)

10% Discount Offer ended
The 10% discount sessions for the over 65's have ended. If you would like to receive a discount for treatment on any day of the week, please ask your dentist or our receptionist for details of our dental plan where you can receive up to 20% discount on your treatment.

Referrals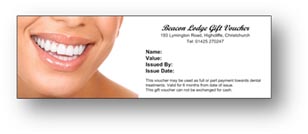 We are always pleased to welcome new patients. Most of our patients come from personal recommendations.
If you know of anyone who would like to join our practice, please do pass on our details.
As a gesture of thanks, for every new patient you recommend, we would like to offer you a £20.00 voucher to spend at Beacon Lodge. In addition to this, we will credit your friend with £10.00 towards the cost of their New Patient Consultation.
Please note this offer is only available for new patients over the age of 18 years, booking appointments with the same dentist as the referrer. No additional discounts will be available in conjunction with this offer.

Cindy Fiske
Practice Manager